Bradt Primary School
District: Mohonasen
Amount Owed in Foundation Aid: $5,580,681
On January 15th, as the first stop in a statewide tour, NYSUT president Pallotta and fellow NYSUT officers visited Bradt Primary School in Mohonasen. Teachers told them first-hand how the lack of state funding plays out every school day.
Kindergarten teacher Laura Eggleston said programs such as transitional first grade and developmental kindergarten are no longer available. "We've had these programs in the past and students really improved," she said from a table where she sat with students who spoke Farsi, Guyanese, Spanish, Chinese and English.
NYSUT officers Jolene DiBrango, executive vice-president; Philippe Abraham, secretary-treasurer; and Paul Pecorale, vice president, spoke with teachers, students, School-Related Professionals and administrators. They were told that the district has been forced to cut music programs, as well as positions for librarians, teachers and custodians.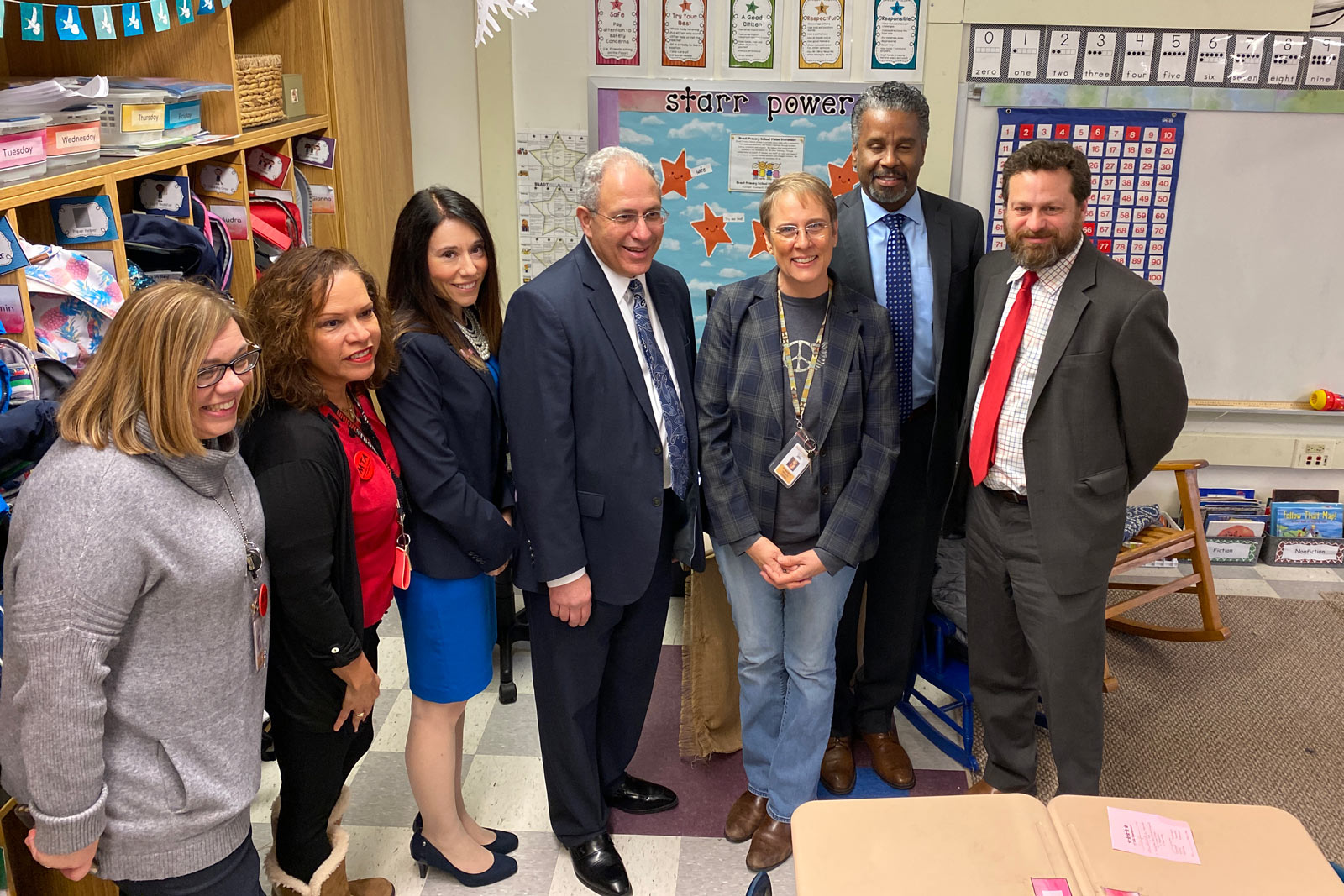 The NYSUT officers meet with faculty and staff at Bradt Primary School to discuss how underfunding from the state is affecting their students' learning environment.
"For me, it feels like a social justice issue. There's not a level playing field … but we have the same demands in terms of curriculum and outcome."
~ Michele Hackett, second-grade teacher, Bradt Primary School
"In the last two years, 10 percent of my unit has been reduced," said Alma Dicocco, school secretary and president of the Mohonasen Support Staff. Remaining employees have more responsibilities added on. "We've lost a business office position, a clerical and custodians," she said.
Class sizes have grown so much that cubbies are stacked in some hallways outside the classroom, because there is no room.
Christine Baumann has 26 students in her class this year; class size used to be a maximum of 17 to 18 students.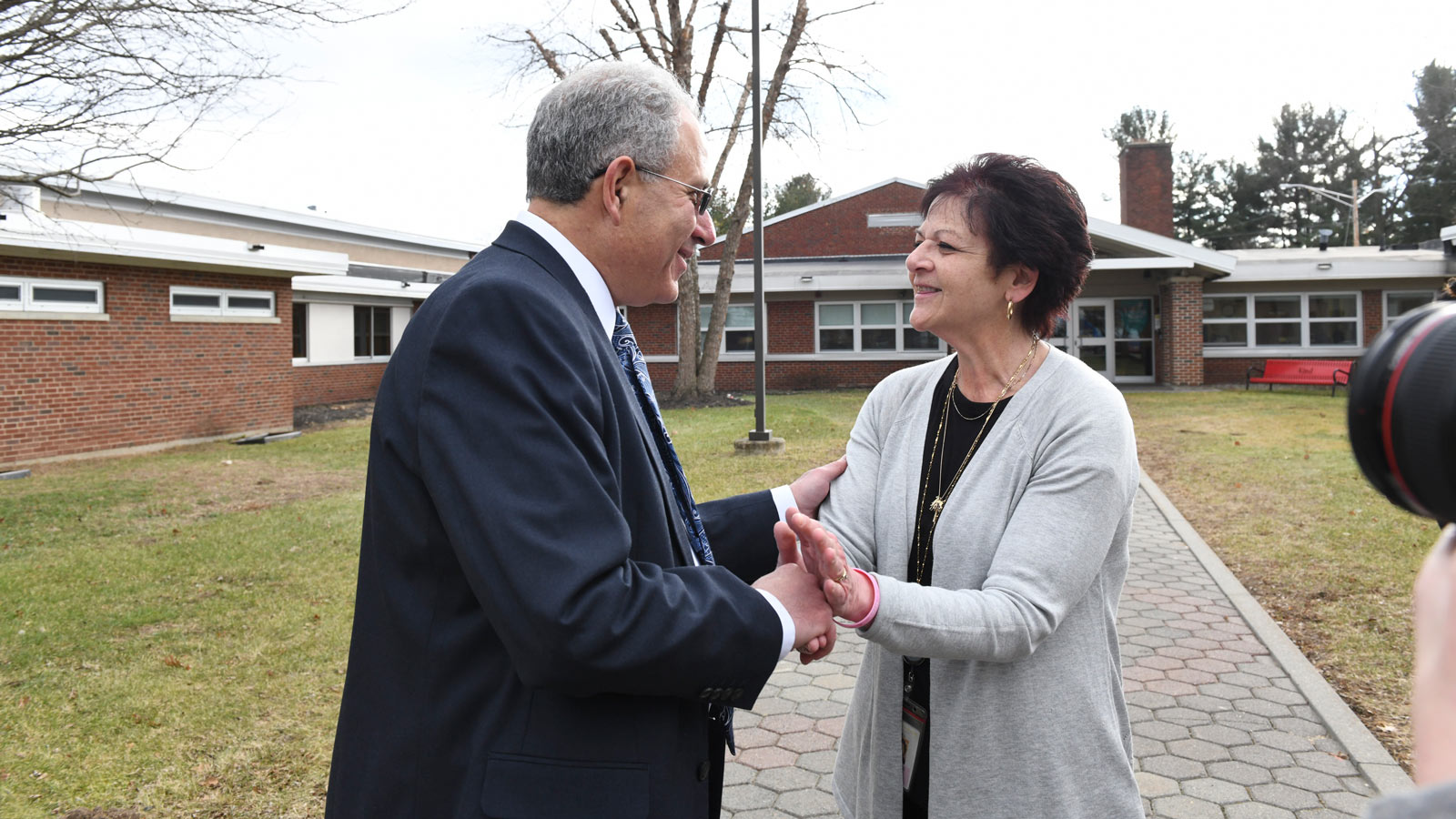 NYSUT president, Andy Pallotta and Alma Dicocco, school secretary and president of the Mohonasen Support Staff.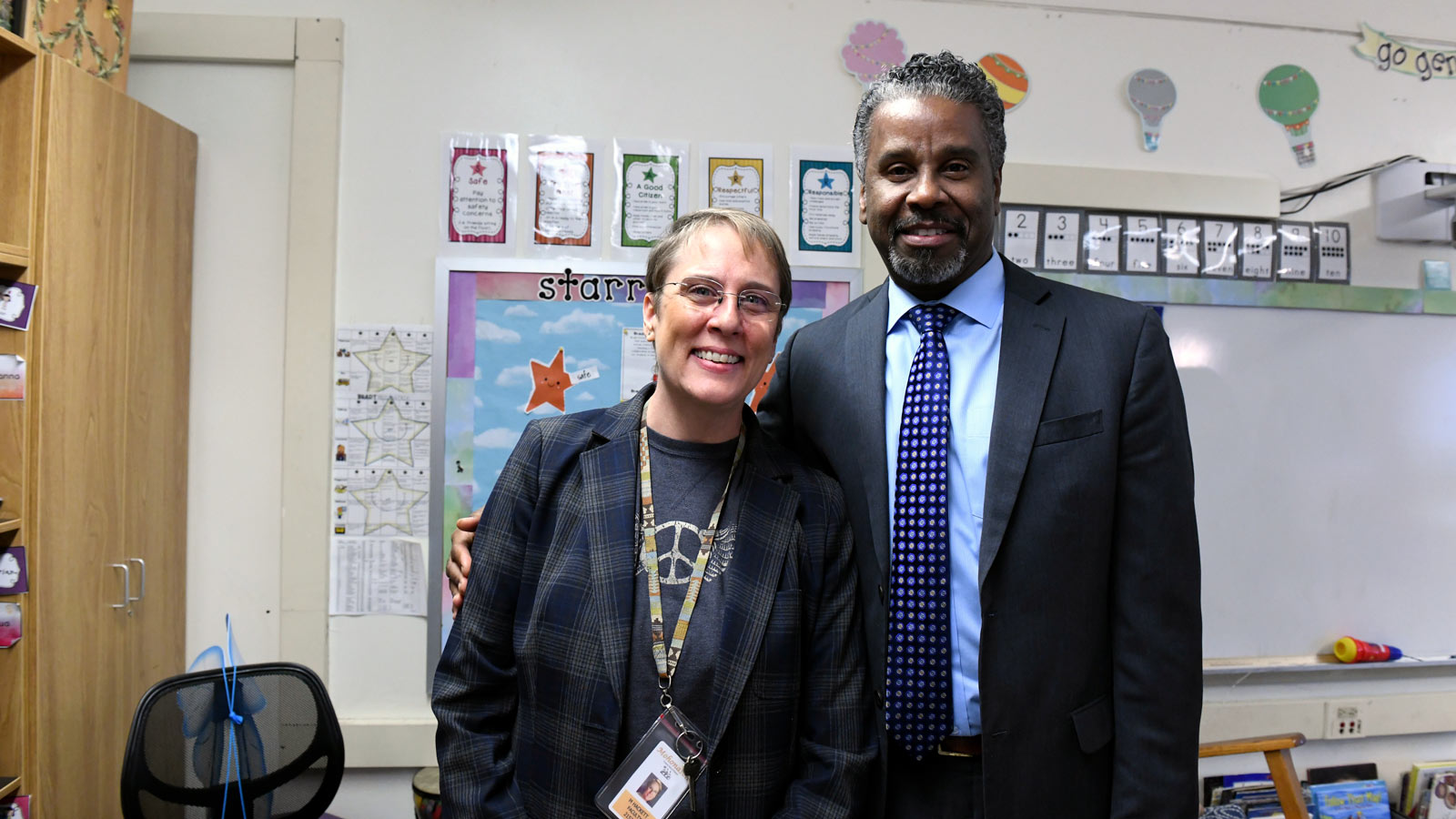 NYSUT secretary-treasurer, Philippe Abraham, and ~ Michele Hackett, second-grade teacher at Bradt Primary School.
Christina Patterson, president of the Mohonasen TA and a special education teacher, said that when she started teaching there 20 years ago, 9 percent of students were eligible for free and reduced lunch. Now, 46 percent qualify for the program. There are homeless students, and those who "couch surf."
"When we should be providing more, we're actually providing less," she said.
Kindergarten teacher Christine Baumann
"The bottom line is every student should expect to get a good education from a state like New York," said Abraham, who oversees social justice for the statewide organization. "Education takes families at the bottom of the ladder and turns them into productive citizens and taxpayers."
Maria Pacheco, a Mohonasen teacher and NYSUT board member, said demographics are changing and more services are needed for students. She said when she began teaching, she and her three daughters, of Columbian heritage, and one other student were the only people of color. Now, one-quarter of the students are from a different culture, she said.
At Bradt Primary School in Mohonasen, every hallway has signs hung from the ceiling with reminders: "Be a good citizen," "Be respectful," "Go Gently."
New York should heed those words for its obligations to schools.
---
Words | Liza Frenette
Images | El-Wise Noisette
---