Long Island: Port Washington & Riverhead
AMOUNTS OWED IN FOUNDATION AID
Port Washington: $4.9 million
Riverhead: $31.1 million
It wasn't like this when Port Washington's Daniel Dowling started his teaching career 17 years ago.
Students' emotional needs are greater. There's more depression, more anxiety. Students are missing more days of school.
As a veteran teacher, Dowling knows: If students are coming to school mentally unprepared to learn, it can be that much harder to reach them.
The students, he said, need support.
"We spend a lot of time, calling parents, dealing with things that kids are missing because they are not coming to school," he said. "Guidance counselors are overburdened. Often times, they're putting out three other fires."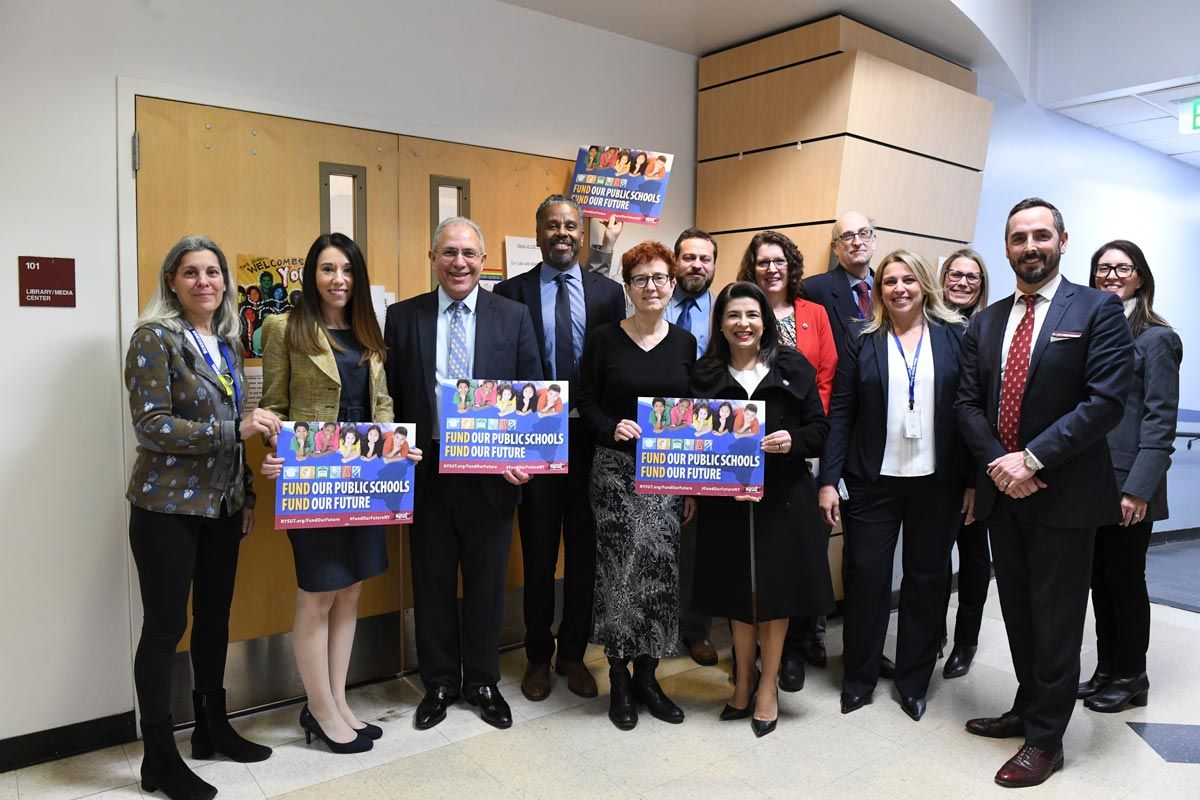 A warm reception for the NYSUT officers and the Fund Our Future tour at Weber Middle School in Port Washington.
Here's what else has changed since Dowling started in the classroom: state resources for districts, like Port Washington, have not kept pace with the increasing demand placed upon schools. Port Washington alone is owed $4.9 million in Foundation Aid from the state. That means fewer staff to handle an increasing amount of student needs, larger class sizes, the loss of academic intervention services and overcrowding.
"Adding more school psychologists, more guidance counselors, having smaller class sizes could help," said Dowling.
That's why NYSUT officers were at Weber Middle School in Port Washington as part of the union's ongoing Fund Our Future bus tour, which aims to call attention to the state's failure to appropriately fund New York's public schools. Across the state, 400 districts are owed $3.4 billion in Foundation Aid.
"We want to make sure every student has opportunity," said NYSUT President Andy Pallotta.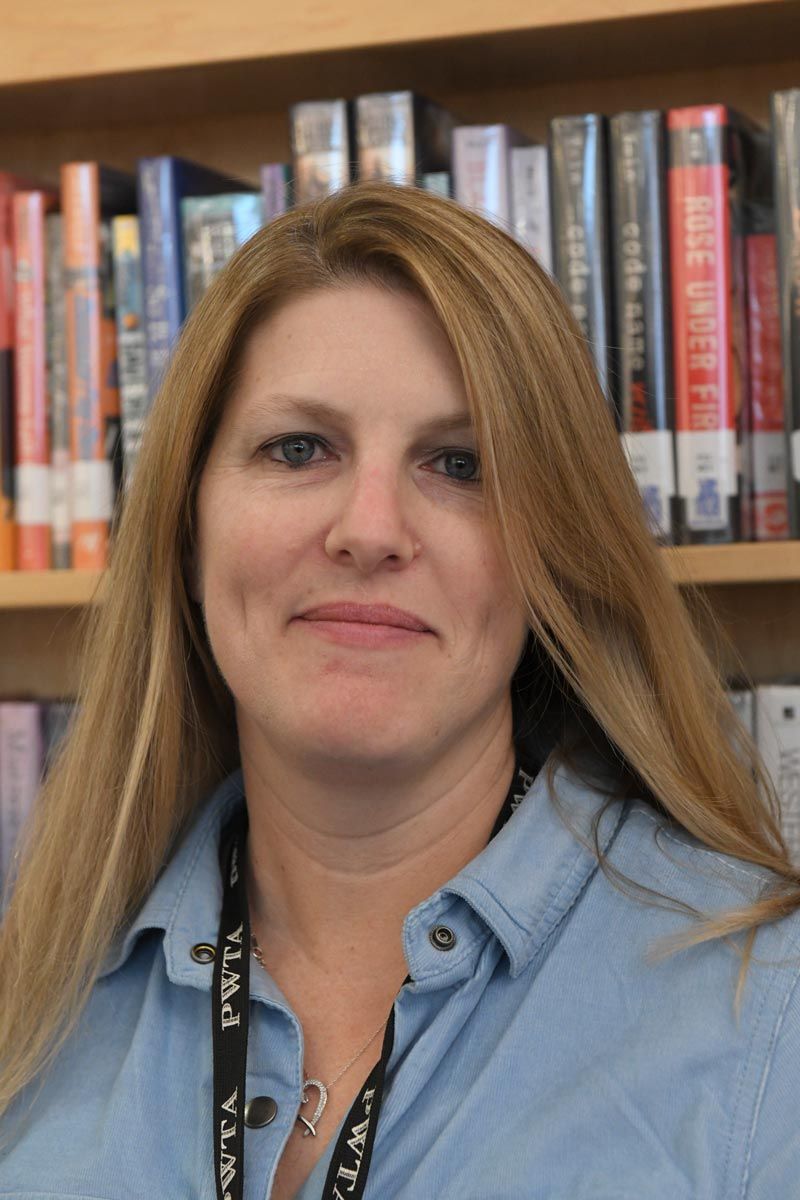 "With a growing student population, mental health needs are growing, (but) we have not increased staff. If children aren't emotionally ready to learn, it makes it that much harder."
~ Janna Amigone, school psychologist, Port Washington
Dowling said he and his fellow educators are rising to the challenge. But, he acknowledged it's getting tougher. And Port Washington Teachers Association President Regina McLean agrees.
"I have been here a long time and I see the effect of a lack of funding," she said, noting the financial constraints have led to ever-increasing class sizes. "We are squeezing kids in."
"With a growing student population, mental health needs are growing, (but) we have not increased staff" due to a lack of funding, said Port Washington school psychologist Janna Amigone. "If children aren't emotionally ready to learn, it makes it that much harder."
Besides meeting with teachers in Port Washington, NYSUT officers Friday were to visit Riverhead Central's Pulaski Street Elementary School, Phillips Avenue Elementary School and Riverhead Middle School.
The Riverhead district is owed $31.1 million. The lack of funds has left the district struggling with overcrowding and space is so tight, in fact, that 420 kids at Pulaski Street Elementary eat lunch at one time. But because of space limitations, students need to eat in shifts. Principal Patrick Burke said that leaves each student 11 minutes to actually eat.
A space crunch is also an issue in classrooms there.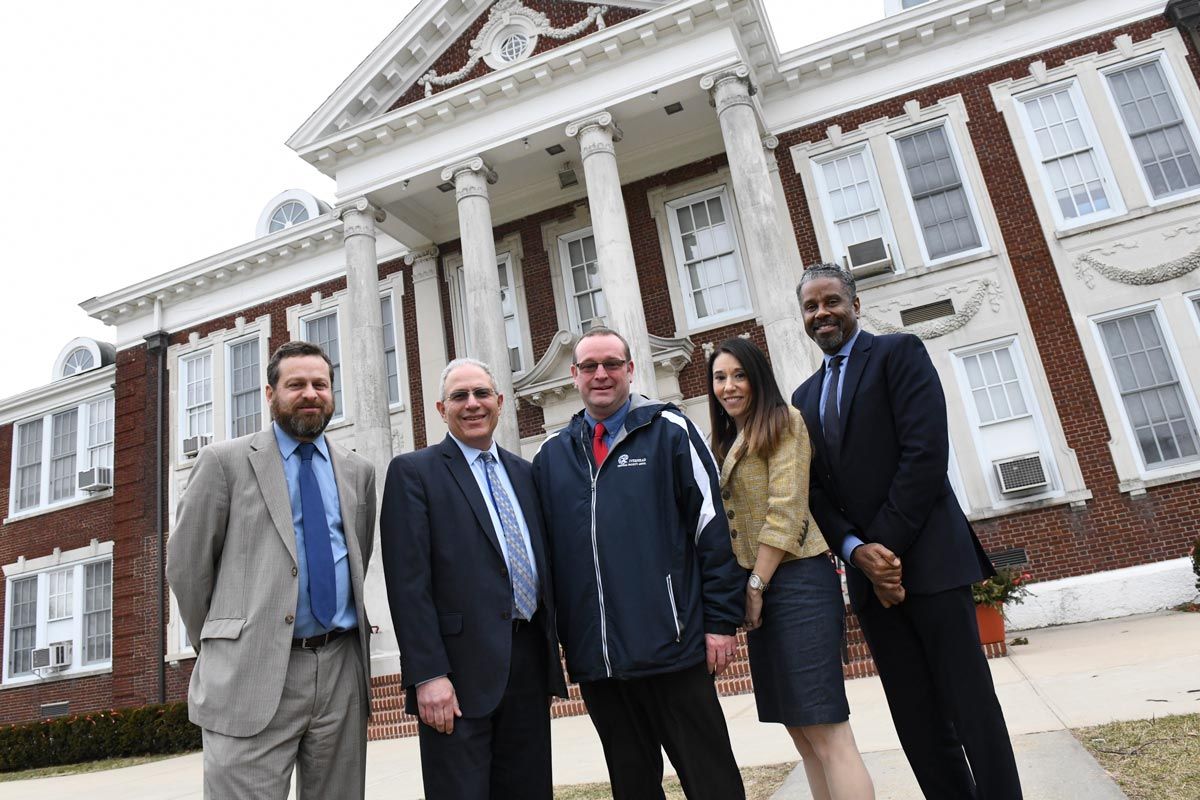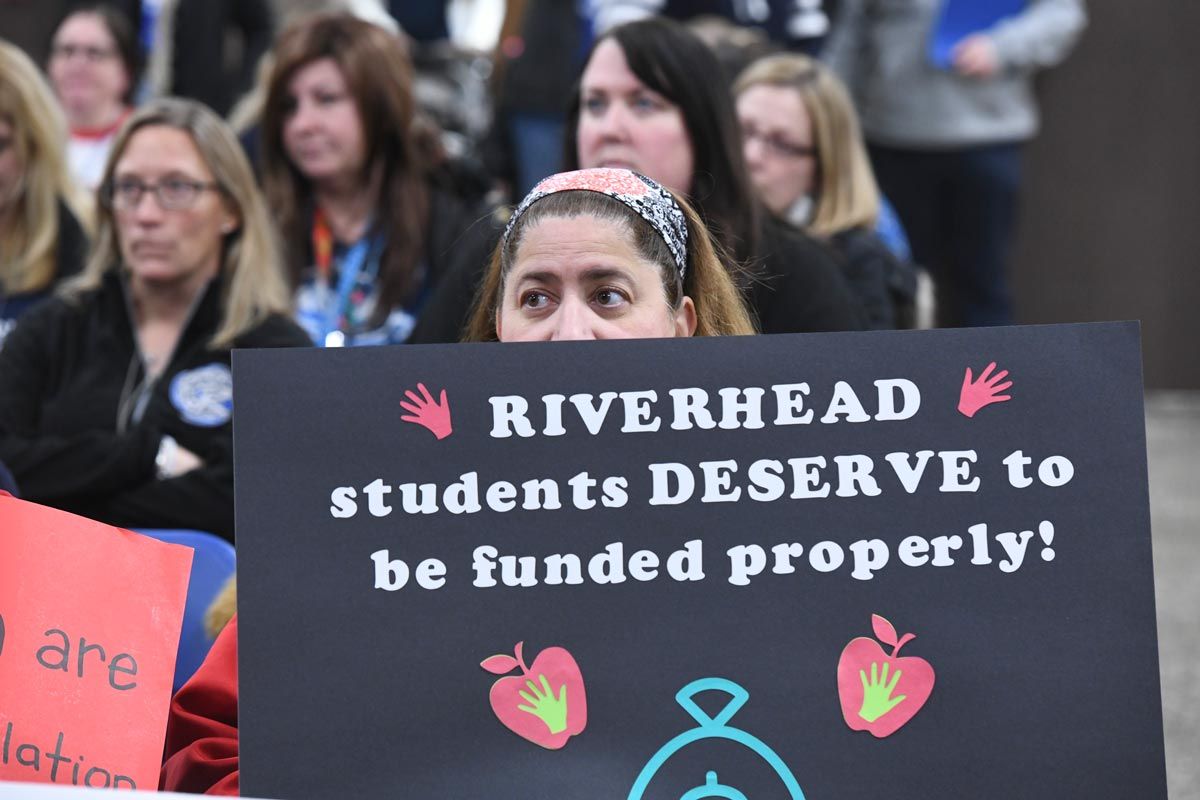 Cory Swenk, a teacher for two decades in Riverhead, said, "When I started teaching, I had 24 kids in my classroom. Now, I have 33. The personal attention is not there... I don't wear a cape."
The district, meanwhile, is also struggling to meet the needs of an increasing population of English language learners.
"Our needs are not like any other district," said Daniela Perez, a translator in the Riverhead school district. "There aren't enough of us to support our families."
That, too, is a problem in Port Washington.
Derek Novinski, an ELL teacher in Port Washington, said the growing population in ELL students combined with a lack of appropriate resources has led to 30 students in a class.
"It's extremely challenging to reach" all of them, he said.
As lawmakers at the Capitol negotiate the 2020–21 state budget, NYSUT is waging a fierce advocacy campaign to increase state school aid by $2.1 billion. The union backs a progressive tax plan to raise revenues through the passage of new taxes on billionaires and ultramillionaires in New York state, ensuring they pay their fair share.
NYSUT — which besides Long Island has already brought its bus tour to schools in the Capital Region, Southern Tier, Westchester County and New York City — will continue visiting districts throughout the state well into February.
Port Washington Schools Superintendent Michael Hynes lauded the union's work in illuminating the financial challenges that districts statewide are facing. So, too, did Port Washington parent Julie Epstein.
"Children's futures," she said, "should not be a game."
---
Words | Matt Smith
Images | El-Wise Noisette
---