Hudson Valley
AMOUNTS OWED IN FOUNDATION AID
Ellenville: $4.3 million
Kingston: $14.7 million
Set in the rolling hills of the Hudson Valley, Ellenville is a small town whose picturesque views belie its 71-percent district poverty rate.
The Ellenville community faces widespread problems like homelessness, hunger and drug abuse. Students and their families frequently turn to the school district for much-needed support. Unfortunately, community need is outpacing the district's ability to cope, and there is a massive resource gap: Ellenville is owed $4.3 million in state aid.
Ask Lisa Wiles what her district's biggest need is and her answer is swift. "We need more counselors, maybe a school mental health clinic, definitely a social worker — we really need a social worker," said Wiles, superintendent for the Ellenville Central School District.
Alison Chapin, the sole school counselor for her building, has seen a dramatic increase in instances of student self-harm and suicide since she joined the district 16 years ago.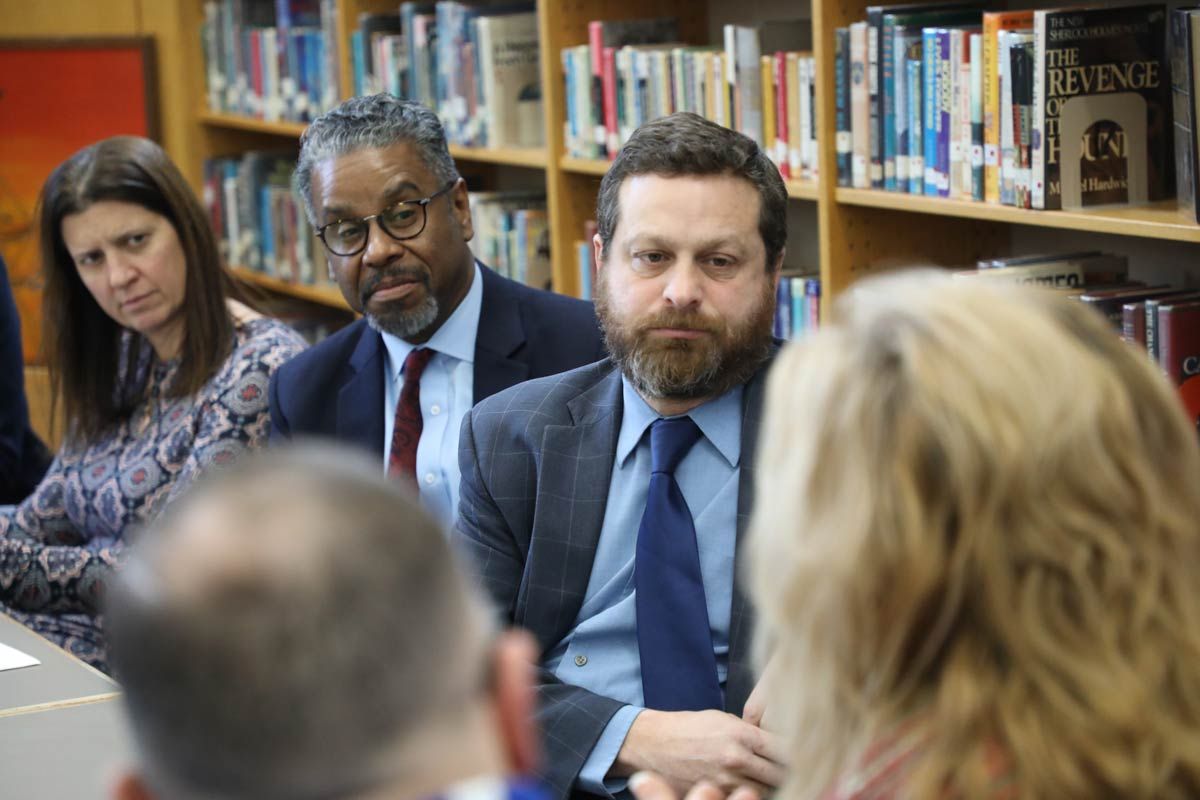 Philippe Abraham, NYSUT secretary-treasurer and Paul Pecorale, NYSUT second vice president, listen to educators and elected officials discuss school funding issues.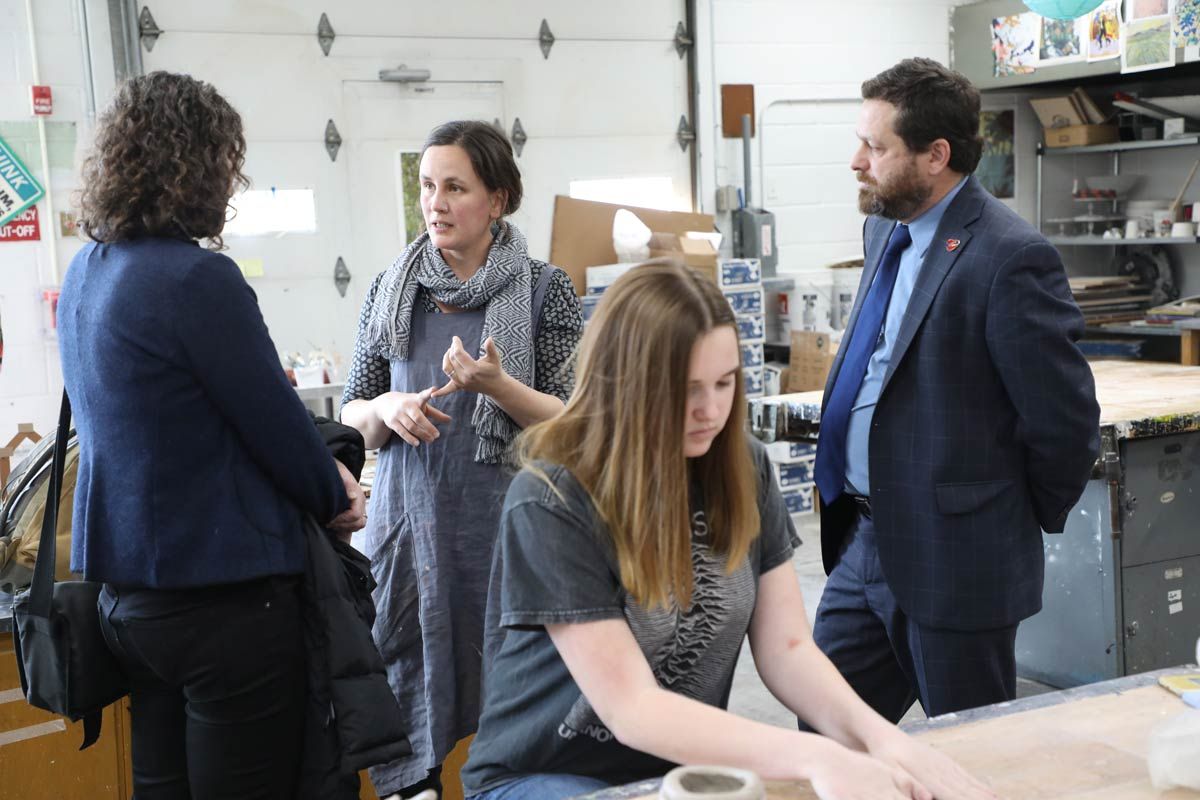 Paul Pecorale, NYSUT second vice president, tours an art classroom in Ellenville.
"When I was first hired, there was an emergency a week," she said, noting that this year, "we had 15 students our first week who had those thoughts and sought treatment."
Budget shortfalls have also led to cuts in music and arts. Ellenville is one of a handful of districts without a fourth-grade band. A $2.5 million funding cut a few years back meant a switch from nine class periods to eight, educator layoffs and subsequent reductions in the number of arts and music classes.
The cuts put students interested in pursuing college-level study in art and music at a severe disadvantage, shrinking their opportunities to develop artistic portfolios or take advanced musical coursework.
"One of our former students went to college for music and had to drop out of the program because he just didn't have the high-school preparation he needed," said Lauri Worden, a music teacher at the high school.
NYSUT Second Vice President, Paul Pecorale, thanked participants for their testimony and pledged the union's continued support for increased state funding for public education. "We're grateful to all of you for the hard work you do every day. I know we can count on your support as we work to get this issue addressed."
Kingston City School District educators and administrators echoed a call for more social and mental health supports. NYSUT representatives and state lawmakers toured the district's M. Clifford Miller Middle School, and Chambers Elementary School.
"I teach an interdisciplinary course called a 'different voice,' and for the first time, I have 17 students who suffer from anxiety," said English teacher Lauri Naccarato, who heads the Kingston Teachers Federation. "It's a constant parade of trying to teach and juggle the social-emotional needs students have … we need appropriate funding to get kids the help they need."
An influx of English language learners also stretches Kingston's purse strings. Owed $14.7 million in state funding, money to hire additional interpreters is in short supply. Additionally, a successful, integrated classroom model at the elementary school faces the chopping block.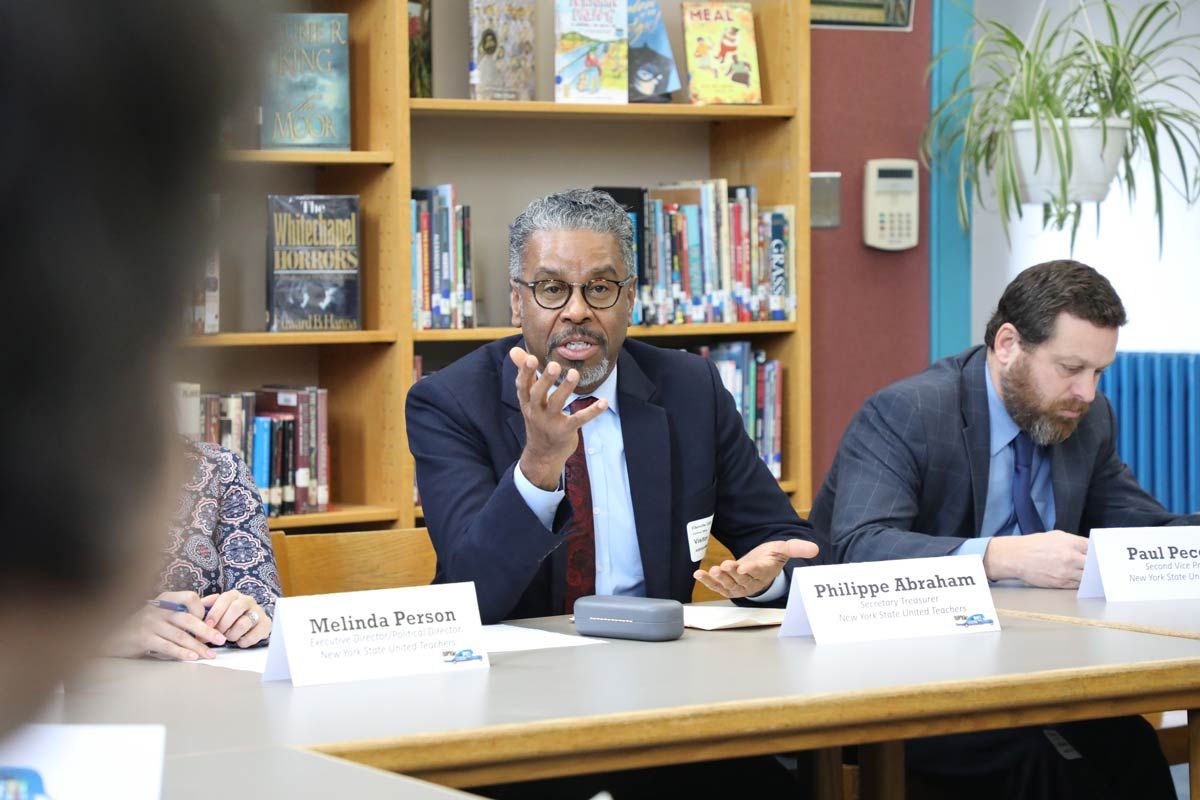 "We have 500 English-as-a New-Language students in the district overall," said social worker Edith Schwimmer, noting that just four years ago, the district only had 70.
Since the start of the New Year, NYSUT leaders have crisscrossed the state as part of its Fund Our Future bus tour to highlight the negative impact state underfunding exerts on schools. NYSUT representatives were joined on the Hudson Valley visit by Sen. Jen Metzger and a representative from the office of Assemblymember Kevin Cahill.
Currently, New York State owes some 400 school districts statewide $3.4 billion in education funding, a shortfall that has caused considerable pain. NYSUT is calling for a $2.1 billion increase in state school aid. A union proposal to increase taxes on ultramillionaires and billionaires could raise more than $12 billion in revenue as the state grapples with a $6.1 billion budget deficit.
"I feel like we're living in a new gilded age," said Philip Althouse, president of the Ellenville Teachers and School-Related Professionals Association, noting that although the economy is strong, public schools aren't reaping the benefits. "Approximately 100 years ago, we had a progressive movement in their country — I think we need another one."
"Every student should have a well-rounded education regardless of where they come from," said Philippe Abraham, NYSUT secretary-treasurer. " The message is clear — billionaires and ultramillionaires should be paying their fair share; our system benefits them, and the economy is booming."
---
Words | Kara Smith
Images | Andrew Watson
---